Total Protective Repair
It repairs the enamel surface, protecting against plaque, tartar build-up and cavities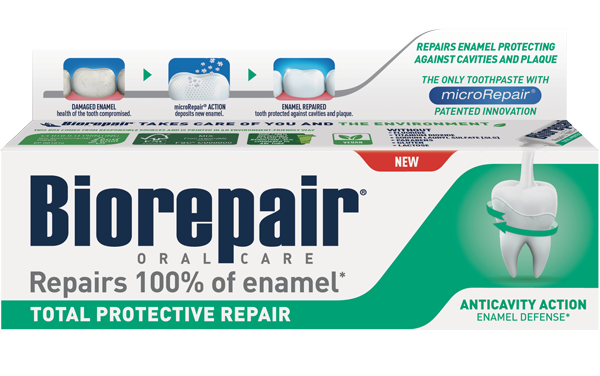 Daily repairs enamel microscratches
Removes and prevents tartar and plaque build-up and tooth decay
Keeps fresh breath
Counteracts the bacteria
Buy Online
WHAT DOES BIOREPAIR® TOTAL PROTECTIVE REPAIR CONTAINS
Aqua, Zinc Hydroxyapatite*, Glycerin, SorbitoI, Hydrated Silica, Silica, Aroma, Cellulose Gum, Tetrapotassium Pyrophosphate, Sodium Myristoyl Sarcosinate, Sodium Methyl Cocoyl Taurate, Sodium Saccharin, Citric Acid, Phenoxyethanol, Benzyl Alcohol, Sodium Benzoate.
*microRepair

What makes Biorepair® Total Protective Repair different from other toothpastes
Enamel and dentin have no cells and thus no ability to spontaneously regenerate. Any deterioration is therefore biologically irreversible. Biorepair® is the first microRepair® based toothpaste that can penetrate enamel and dentin micro-scratches, binding to and chemically repairing microabrasions. Consequently, due to the presence of microRepair®, Biorepair® Total Protective Repair protects and repairs as well.

What microRepair® is
MicroRepair® consists of particles constituted by Hydroxyapatite whose composition is very similar to that of tooth enamel. This similarity gives microRepair® the biomimetic properties to integrate microparticles with enamel and dentin, with consequent mineralising and restorative action.

IMPORTANT:
Children under six years of age can use Biorepair® without adult supervision due to the absence of Fluoride.

Biorepair does NOT contain:
Fluoride
Titanium dioxide
Sodium Lauryl Sulphate
Parabens

OTHER PRODUCTS FOR YOUR DAILY HYGIENE
MAIN CAUSES OF TOOTH EROSION




Professional
teeth whitening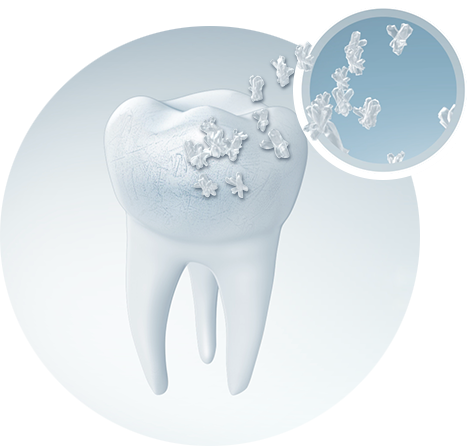 THE BIOREPAIR® SOLUTION
Enamel has micro-fractures that are invisible to the naked eye which compromise dental health.
MicroRepair® particles penetrate the micro-cracks and repair the enamel.
Biorepair® shields from cavities, plaque and tartar build-up.