Chewing Gum for the well-being of the oral cavity without sugar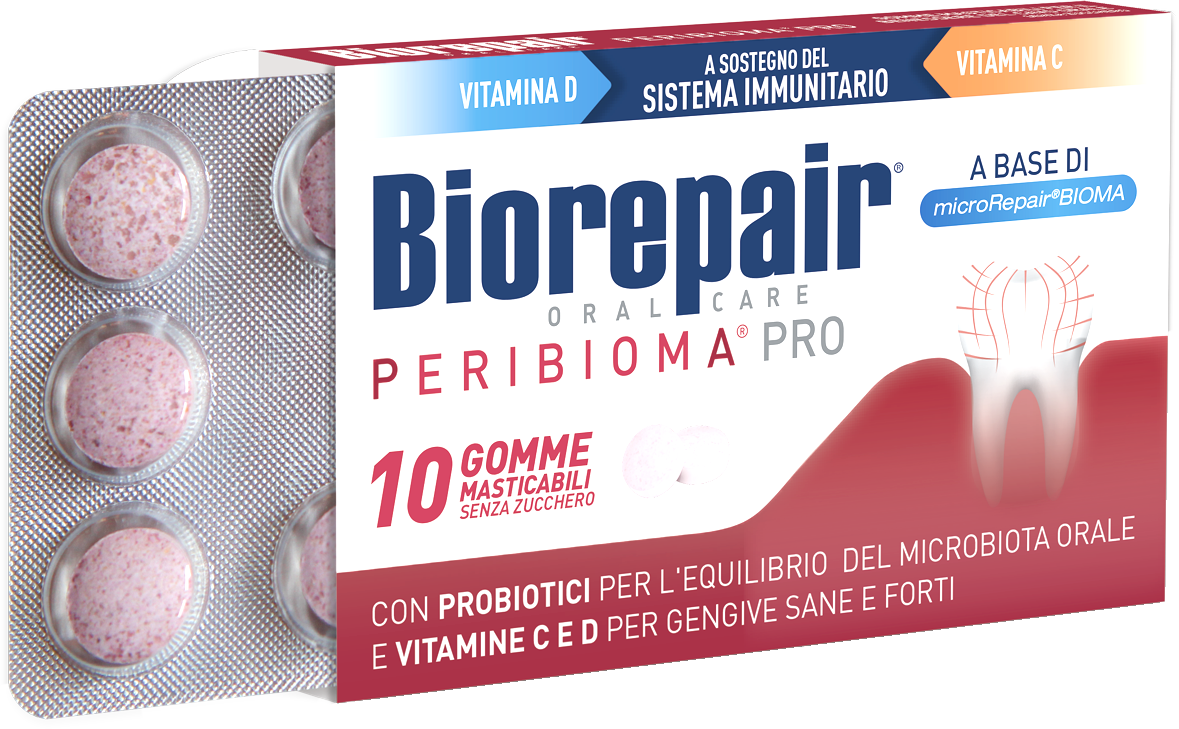 Biorepair® Chewing Gum PERIBIOMA® PRO is the only formula with microRepair®BIOMA that counteracts the symptoms of periodontitis and fights the causes, promoting the maintenance of normal oral microbiota.



Buy Online
WHAT IS INSIDE BIOREPAIR® PERIBIOMA® PRO
Gum base (flavours; emulsifier: soy lecithin; sweeteners: acesulfame K, sucralose; antioxidant: tocopherol); bulking agents: isomalt, sorbitol; microRepair® (orthophosphoric acid calcium salt)*; probiotic lactic acid bacteria* [L. reuteri (SGL 01), L. salivarius (SGL 03), L. plantarum (SGL 07), bulking agent: maize maltodextrin, Anti-caking agent: silicon dioxide]; flavours; Vitamin C (calcium ascorbate); colouring foodstuff (radish and sweet potato concentrate); sweeteners: sucralose, acesulfame; Vitamin D (Colecalcipherol).
*microRepair®BIOMA

Why Biorepair® PERIBIOMA® PRO is different from other kinds of chewing gums
Biorepair® PERIBIOMA® PRO chewable gums, thanks to their advanced formula based on microRepair®BIOMA and Vitamin C and D3, keep the gums protected and strong. The addition of probiotics helps maintain the normal balance of the microbiota. Incorrect nutrition drops in immune defenses, stress, can cause irregularities in the microbiota, both intestinal and oral. Biorepair® PERIBIOMA® PRO chewable gums contain microRepair®BIOMA, microcrystals of hydroxyapatite added with three billion specific selected probiotics that favor the rebalancing of the oral microbiota.

What are microRepair®BIOMA
MicroRepair®BIOMA are biomimetic hydroxyapatite crystals added with specific probiotics with innovative action. They repair tooth enamel by protecting it from gum plaque and help prevent gum inflammation and bleeding. Probiotics stimulate the immune action and favor the maintenance of the normal oral microbiota.

CAUTION:
It is recommended to chew one gum a day for at least 20 minutes, preferably after normal oral hygiene. It is suggested to continue taking it for at least 10 days.

Warnings: Follow the recommended daily dose. Supplements are not intended as a substitute for a varied and balanced diet but must be used as part of a healthy lifestyle. The product should be kept out of the reach of children under 3 years of age. Excessive consumption can have laxative effects. Conservation in a cool, dry place.
FOR THE CARE OF YOUR GUMS
MAIN CAUSES OF TOOTH EROSION



Professional
teeth whitening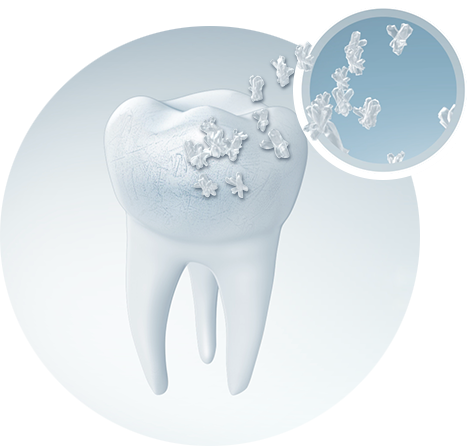 THE BIOREPAIR® SOLUTION
Enamel has micro-fractures that are invisible to the naked eye which compromise dental health.
MicroRepair® particles penetrate the micro-cracks and repair the enamel.
Biorepair® shields from cavities, plaque and tartar build-up.