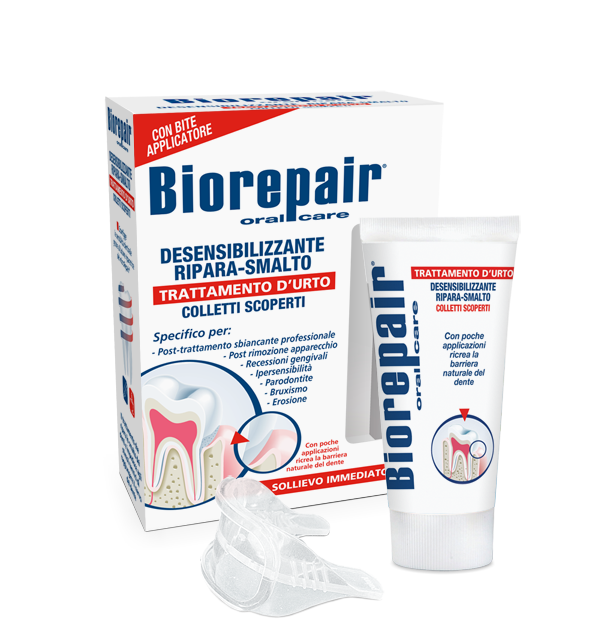 Fluoride

Titanium Dioxide

Sodium Lauryl Sulphate

Parabens

Abrasive Silica
Treatment that helps defeating the dentinal sensitivity thanks to the repairing action of microRepair®..
The reparation of the enamel damaged surface is one of the remedies for the dentinal hypersensitivity and Biorepair® is able to intervene successfully.
WHITENING: professional whitening treatments or aggressive
toothpastes may weaken the tooth enamel;
GENGIVAL RECESSION: inflamed gums may recede, uncovering the dentinal tubules, hot and
cold sensation are transmitted directly to the nerves;
ENAMEL EROSION:
daily habits such as food and acid beverage consumption, cause little
imperfections and scratches on the enamel;
BRUXISM: the
grinding of the teeth causes important alterations and consequently an increase
in the teeth sensibility for hot and cold;
ORTHODONTIC DEVICES: the use of very strong glues, necessary to glue the device plate to
the teeth may cause damages to the enamel itself.
DIRECTIONS FOR USE:
For a correct use, after brushing our teeth with Biorepair® Sensitive Teeth toothpaste:
1. Apply the Biorepair® Desensitizing Treatment on the inner surface of the bite;
2. Place the bite in your mouth and shut your teeth;
3. Let it work for 2-3 minutes. Once you've taken the bite out of the mouth, rinse the oral cavity.
IMPORTANT: use of Biorepair® Desensitizing Treatment is discouraged in case of hypersensitivity to one of those components.

Ministerial authorization to advertising of 20/03/2015.
Is a Medical Device CE.
Read warnings and instructions for use.
What Desensitizing Treatment contains

Aqua, Hydrated Silica, Zinc Hydroxyapatite*, Glycerin, Sorbitol, Sodium Bicarbonate, Cellulose Gum, Aroma, Sodium Myristoyl Sarcosinate, Sodium Methyl Cocoyl Taurate, Sodium Saccharin, Phenoxyethanol, Benzyl Alcohol, Sodium Benzoate, Menthol. *microRepair®

What makes Biorepair® Desensitizing Treatment different from other treatments

Biorepair® Desensitizing Treatment thanks to microRepair®, repairs the tooth enamel chemically bonding with it and dentin, closing the tubules and preventing the thermal stimuli to reach the nerve on the enamel.

How Biorepair® Desensitizing Treatment works

The microRepair® repairs and remineralizes the enamel, making it stronger and more resistant. The microRepair® penetrates into the tubules creating a barrier against the pain; Zinc ions help removing the bacteria, reducing the plaque accumulation on the edge of the gums.