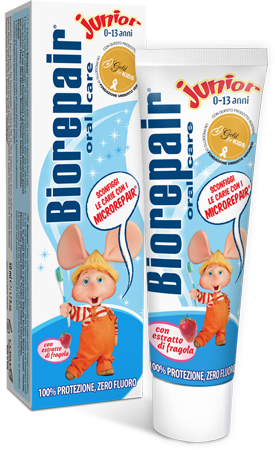 It remineralises and repairs with microRepair®
Recommended during the use of dental equipment
It contains 15% active principle
It has an exquisite strawberry flavour
It does not contain Sodium Lauryl Sulfate (SLS)
It does not contain parabens
It is suitable for all ages
Biorepair® Junior is the only microRepair® based toothpaste for children that protects from plaque and bacteria attack.
Biorepair® Junior toothpaste protects against cavities and makes teeth strong and healthy. The amount of active ingredient contained in Biorepair® Junior is the same as that present in adult toothpastes. Its fruity strawberry flavour tones and nourishes the gums.
What Biorepair® Junior contains

Aqua, Glycerin, Zinc Hydroxyapatite*, Sorbitol, PEG-32, Silica, Cellulose Gum, Aroma, Sodium Myristoyl Sarcosinate, Sodium Methyl Cocoyl Taurate, Fragaria Vesca Juice, Mentha Piperita Oil, Sodium Saccharin, Citric Acid, Sodium Benzoate, Potassium Sorbate, Phenoxyethanol, Benzyl Alcohol, Anethole, Menthol.*microRepair®

MicroRepair® concentration

Biorepair® Junior has a microRepair® concentration of 15%.