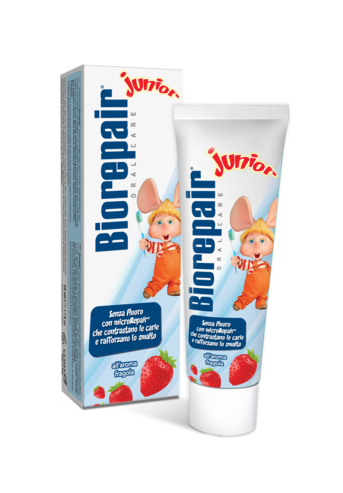 It remineralises and repairs with microRepair®
Recommended during the use of dental equipment
It contains 15% active principle
It has an exquisite strawberry flavour
It does not contain Sodium Lauryl Sulfate (SLS)
It does not contain parabens
It is suitable for all ages
Biorepair® Junior is the only microRepair® based toothpaste for children that protects from plaque and bacteria attack.
Biorepair® Junior toothpaste protects from cavity and makes teeth stronger and healthier. lt is the only toothpaste that contains microRepair®, which fights cavities and strengthens tooth enamel. Its special formula is particulary delicate because DOESN'T contain: Fluoride, Abrasive Silica, Titanium Dioxide, Sodium Lauryl Sulfate and Parabens. lt is recommended for the rimineralization of tooth enamel during wearing braces. Its Strawberry extract has tonic properties and nutrients for the gums.
What Biorepair® Junior contains

Aqua, Glycerin, Zinc Hydroxyapatite*, Sorbitol, PEG-32, Silica, Cellulose Gum, Aroma, Sodium Myristoyl Sarcosinate, Sodium Methyl Cocoyl Taurate, Fragaria Vesca Juice, Mentha Piperita Oil, Sodium Saccharin, Citric Acid, Sodium Benzoate, Potassium Sorbate, Phenoxyethanol, Benzyl Alcohol, Anethole, Menthol.*microRepair®

MicroRepair® concentration

Biorepair® Junior has a microRepair® concentration of 15%.