ULTRA-FLAT DENTAL FLOSS
with microRepair® for regular spaces,
perfect for everyday oral hygiene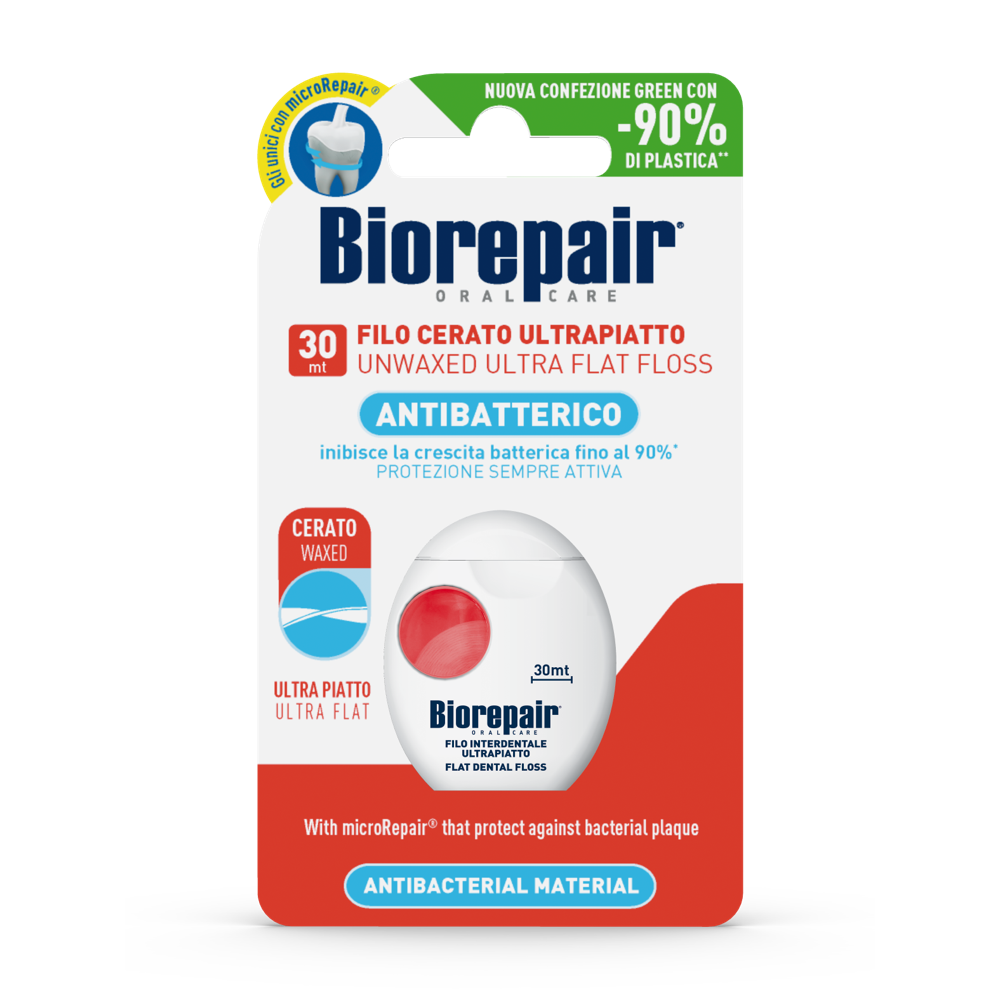 It is made with the innovative SELF CLEANING POLYMER technology and microRepair®, particles made up of the same substance as enamel, which penetrate into places toothbrushes cannot reach.


25+5mt
Made with a mono-filament with special flat sections for narrow interdental spaces
Fresh mint flavour
Buy Online
THE INNOVATIVE BACTERIOSTATIC SELF-CLEANING POLYMER* (S.C.P.)
The Self Cleaning Polymer is a special polymerisation process that makes all the materials in the Biorepair® accessory line bacteriostatic. This innovative technology is based on natural trace elements, is free from biocidal substances and fights bacterial growth, making Biorepair accessories safer and providing better protection. Bacteriostatic protection stays effective over time.

What makes the ULTRA-FLAT Dental Floss from Biorepair® different from other accessories?
It is the only dental floss with microRepair®, particles made up of the same substance as enamel, which penetrate the places your toothbrush cannot reach, protecting against the formation of the dental plaque that causes cavities and inflamed gums. Biorepair® Ultra-flat Dental Floss is made with a mono-filament featuring a special flat section that is particularly recommended for narrow interdental spaces and sensitive teeth. It's ability to slide into even the most difficult-to-reach spaces helps to remove plaque and food debris. Combined daily use of the Biorepair® Ultra-flat Dental Floss with microRepair® and Biorepair® Fast Sensitive Repair toothpaste guarantees immediate relief from dentine hypersensitivity and repairs tooth enamel. With a fresh mint flavour.

With microRepair® for the complete health of the oral cable
Biorepair® is the only range that can boast the patented innovation, made in Italy, of the microRepair®: particles biomimetic made of the same substance of tooth enamel. Thanks to the accessories Biorepair® the microRepair®s penetrate in the interdental spaces where the tooth brush doesn't arrive protecting from the formation of the bacterial plate preventing caries and the principal pathologies gum disorders.

HOW TO USE:
1. Remove about 40 cm of the dental floss, cut it and wrap the two ends around the middle finger on each hand.

2. Leave 10 cm of dental floss between the two fingers and gently slide it between your teeth, moving it from top to bottom and rocking back and forth.

ALWAYS-ACTIVE PROTECTION:
Against the bacteria that cause plaque build-up, tartar, cavities and gingivitis, which work their way into the interdental spaces and create an acidic biofilm that is corrosive to enamel. The new Biorepair® accessories with microRepair® made in bacteriostatic SCP help to protect the spaces your toothbrush cannot reach from bacterial attack.

Other oral prevention products
MAIN CAUSES OF TOOTH EROSION




Professional
teeth whitening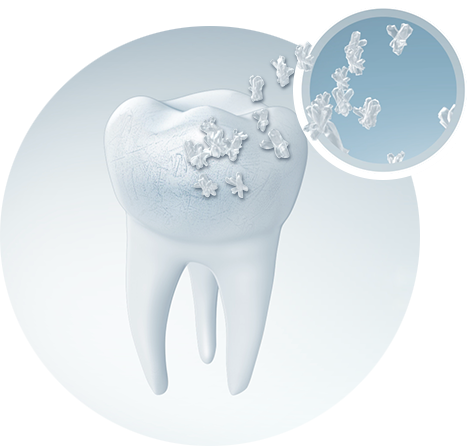 THE BIOREPAIR® SOLUTION
Enamel has micro-fractures that are invisible to the naked eye which compromise dental health.
MicroRepair® particles penetrate the micro-cracks and repair the enamel.
Biorepair® shields from cavities, plaque and tartar build-up.